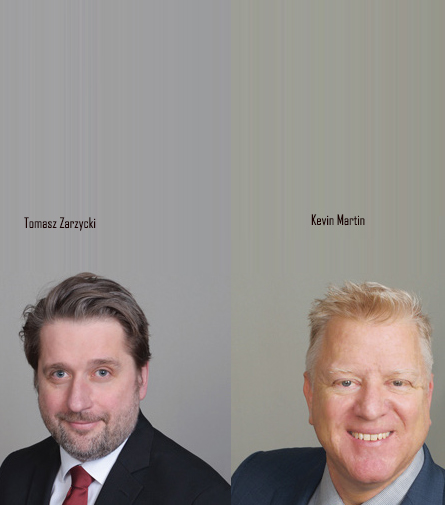 Tomasz Zarzycki, Oracle Cloud ERP Practice Lead and Kevin Martin, VP of Sales and Solutions
The value of cloud based Supply Chain Management is projected to surpass $11 billion by 2023. A significant credit for the growing popularity of such solutions belongs to Oracle's Supply Chain Management solution—Oracle SCM Cloud. It has helped countless organizations improve their supply chain processes by providing end-to-end visibility and the flexibility to adopt novel technologies such as AI and machine learning. However, many enterprises find it challenging to leverage Oracle SCM to the fullest as it requires relevant expertise andstrategic planning. To this end, AVATA positions itself as Oracle's strategic partner and a consultancy firm that helps its clients purchase, implement and fully utilize Oracle's on-prem and cloudbased applications.
In an interview with MD Tech Review, Kevin Martin, VP of Sales and Strategy, and Tomasz Zarzycki, Oracle Cloud ERP Practice Lead, highlights AVATA's unique consultative approach in helping clients implement Oracle's applications in an efficient and cost-effective manner.
Please give our readers a brief overview of AVATA.
Kevin:
AVATA is a full-service Oracle partner and consultancy firm that provides strategic consulting to implementation services for Oracle's on-prem and cloud-based applications. We offer a wide range of tools and solutions across many industry verticals. We have also expanded our expertise to provide full Enterprise Resource Planning(ERP) capabilities covering financials, procurement, manufacturing, and order to cash activities along with SCM offering. Additionally, PLM offers the ability to bring in Product Data Hub, Innovation Management, and Product Development applications.
Tomasz:
We are an execution-oriented company that provides services from strategy through execution. As such, we provide a broad range of services, from management consulting through integration. We also offer managed services and training to complement Oracle implementation services.
Who are your typical clients, and what are some of the challenges they face in supply chain management? How do you mitigate those challenges for them?
Kevin:
Our typical clients have revenues ranging from $50 Million to - $70 Billion and are spread across all industries and pillars. They partner with AVATA to improve their business processes—be it with supply chain, business process automation, or consolidate a Single Source of Truth(SSOT) across ERP and ancillary systems. We help them implement any SCM, ERP, PLM, or Enterprise Performance Management(EPM) application while providing business process automation, road-mapping, and management consulting across those applications.
Tomasz:
Talking about challenges, organizations these days require a unified financial and operational view of their supply chain. We allow our clients to benefit from access to real-time data from both supply chain planning and execution perspectives. We thereby interact with both CFO, CIO and operations pillars and provide them with a consolidated view of the supply chain.
Could you walk our readers through the solutions and services you offer?

Kevin: Being a strategic Oracle partner, we are brought in to support clients as they make an investment in Oracle or when they evaluate an SCM software and the impacts it will have on their organization. Today, companies look for advanced features such as augmented intelligence and multi-factor security when searching for a suitable application. We provide them with business
management consulting where we help them identify the direction to steer forward, should they invest in the software or platform of interest.

When the client decide on the type of software they want, we support them with the software implementation. We can also help them with a specific solution pertaining to the life sciences or medical field – or for whatever industry they represent. Our solutions team has been successful in developing many point solutions to augment the application they are using. We provide all training documentation and Day-2 / managed services. AVATA also supports them even after they go live with the application by training their staff and improving their adoption in using the application through proven change management tactics.

Tomasz: Our clients have a set of defined business objectives or supply chain metrics that they want to achieve through Oracle cloud technologies. So, right from the beginning, from strategic advisory management to execution and implementation, we help them define those objectives. We measure the success of the applied Oracle technology through its ability to meet those objectives.

Could you throw more light on the eLync Enterprise Integration Platform?

Kevin:AVATA's eLync platform was developed to integrate legacy data between the clients' data silos, third-party applications or legacy ERP systems, and the Oracle cloud infrastructure. The Oracle cloud had certain limitations in moving data out of the cloud during its initial years. We saw an opportunity to help our clients build a robust, cost-effective solution that could scale any of their needs, and thus eLync came into existence. The platform has expanded to integrate legacy platforms like JD Edwards, NetSuite, and Salesforce.com, etc. into the cloud seamlessly. Oracle has since expanded their offering as well, so we leverage out of box integration with Oracle integration services whenever possible.

Tomasz: eLync platform allows us to instantly move legacy data into the cloud, compresses the implementation timeline, and quickly enables clients to go up and running with the Oracle solution.

How do you help your clients when it comes to providing them with supply chain education?

Kevin: Our clients often call us to assess them when they think of doing something–either for a business reason, or for IT infrastructure purposes. Most of the time, they aren't using their information systems optimally. We do training and education during those assessments. We also offer webinars, lunch and learn, and other training events. Our global marketing team vocalizes to both companies as well as sales reps within the Oracle community on issues or challenges that may occur with respect to Oracle applications. We are recognized in the industry for our communication strategy and education outreach.

Tomasz: Our fundamental focus is to enable our clients to get fully independent in operating the platform after the implementation process. Therefore, core elements of our methodology are the knowledge transfer process to both client implementation team and the end user community. To facilitate this, we conduct a well-balanced mix of onsite / virtual, structured and unstructured training.

Could you comment on your partnership with Oracle and how it has helped establish a trustworthy relationship with your clients?

Kevin: We solely focus on the Oracle applications and solutions they provide for our clients. When Oracle engages with clients across industries, be it a small to medium sized business or a multinational company, they look to AVATA for their implementation services. Oracle knows our success in engaging with their clients, understanding their processes, and implementing the applications on time and within budget. Though there have been many new partners of Oracle recently, very few have the expertise and depth of knowledge that we bring to an engagement.

What does the roadmap look like for AVATA?

Kevin: We shall continue to advance our organization while aligning with Oracle's overall cloud strategy. We are seeing some additional partnerships in the industry that may drive a different behavior on how we go about working with clients. As AVATA continues to grow, we are undertaking partnerships where it makes sense, and when our customers demand it. Oracle is currently focused on emerging technologies like AI, IoT, Blockchain, and we are working side by side with Oracle to both build our existing solutions, and to develop internal solutions using these applications. To achieve this, we envision strategically partnering with leaders of those spaces to ultimately be able to provide our clients with a complete solution that can address their every need.